Hawkesbury River Cruises
This is the ultimate in river cruises!! This experience will provide memories for a lifetime.
The ultimate in River Cruises
Don't miss out – Summer almost fully booked – t here has been a big demand for our tours coming out of lockdown
Full refund if still locked down
Book now – pay later
Meandering down the Hawkesbury River Cruises aboard a barbecue boat or smaller boat provides a truly Australian experience. Don't waste your time in a bus trip to the Blue Mountains. Instead, explore the Hawkesbury River (only one hour from Sydney ) that remains in its natural state as a national park for everyone to enjoy; most of it is still the same as it was 228 years ago when Europeans first arrived in 1788.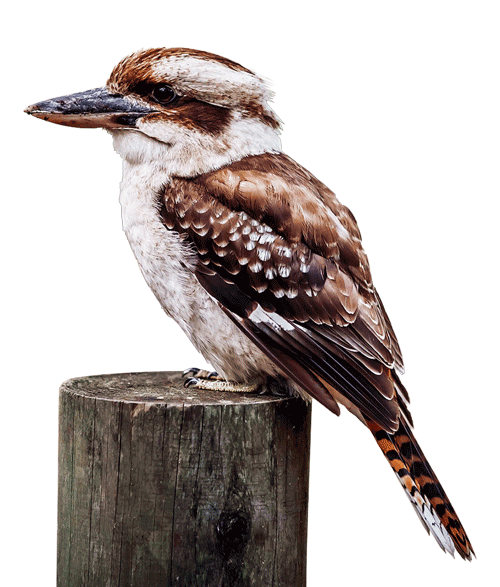 Spectacular Hawkesbury river scenery and secluded beaches only accessible by boat
Learn the rich history of 50,000 years of Aboriginal living off the land..
Explore aboriginal sites, rock carvings and middens
Hand feed native birds, hopefully you will feed the most beautiful King Parrots and lots of other native birds.
Delicious French inspired barbecue, best quality wine and beer.
Chantal provides an entertaining and fun experience
A professional guide providing  you with  local knowledge of aboriginal sites, flora, fauna and history
Chantal tours can be given in both French and English.
Learn the secret river history from a local – from big bush fires, to the convict orchards.
Visitors embark their vessel at the Berowra Waters Public wharf and the tour begins.
We cruise past Calabash Bay where there are a few famous Aussies living in seclusion. This will be followed by a National park area where there is nothing but nature. Last bit of civilisation is at Collingridge Point, named after George Collingridge who was one of the first Europeans to have settled here with his wife Lucy.
Visit to Aboriginal site(s) to inspect rock carvings and possibly middens. The Dharug tribe moved into the Hawkesbury area about 50,000 years ago but the population numbers didn't really develop much until about 4,000 years ago. There are thousands of aboriginal middens all along the river – old piles of oyster shells and ash from fires.
Wide range of boats is able to be hired from local marina. For tours Chantal is charging from $200 for 2 hours.
Chantal's boat - polycraft
Protective cover
Swim ladder
Blue polycraft With suncloth
Luxury bbq boat, luxury bbq boat +.
We supply fuel, lifejackets, water and sunscreen
We can supply fishing gear on request – all you need to do is buy some bait at the marina
You can choose to captain the boat or for us to skipper for you. No boat licence is required.
Gourmet lunches (extras)
Next is your optional French inspired gourmet barbecue or fresh Hawkesbury seafood surrounded by natural bushland, near the local, hidden spectacular beaches. Any tours with lunch we will also include a complimentary extra hour to the tour. You will have a choice of eating on the BBQ boat, at a secret picnic spot only accessible by boat or at Chantal's home with stunning views across the bay. All lunches are lovingly prepared for your tour and we welcome your input on the menu to make it exactly what you are after.
*Reference images.
Gourmet sausages.
Cooked on the boat or in secret picnic spots only accessible by boat.
Gourmet BBQ Lunch
Homemade Dips
Trout fillet bathed in olive oil, lemon and parsley
Marinated lamb cutlets
A french "Salade de tomates"
A french "Salade Verde"
A particularly special creamed dill potato salad.
A cheese platter and fruit of the season.
Seafood platter
1 Doz local Sydney rock oysters
1/2 a kilo of local prawns
A homemade smoked salmon
Dip and crackers.
Indigenous experience
Kangaroo Casserole
Wattle seed damper
Photo Gallery - Hawkesbury River Cruise
Hawkesbury.river.cruises.
A relaxing way to explore Sydney's hidden waterways
Bird feeding at Chantal's
Chantal's home is on the Hawkesbury River waterfront and on the edge of National Parks. So there is a very wide range of spectacular birds to feed each day.
The Hawkesbury River and Aboriginal Sites
The Hawkesbury river is the longest coastal river in NSW. It is 120 k long from where the Nepean and Grose river meet the Hawkesbury. It was a vital source of water and food for the Aborigines and it was critical for the survival of the early British colony living in Sydney. The Aboriginal name for the Hawkesbury river is Dyarubbin meaning wide deep water.
About Chantal
Chantal has lived on the Hawkesbury for over 10 years she combines her love of adventure, the water and food and fun into an entertaining tour with great food and spectacular river scenery. She became a qualified tour guide in 2005. She has been guiding all over Sydney, the Blue Mountains and the Hawkesbury for the last 15 years making her an expert in our rich history.
She was drawn to live on the river where there is only boat access (no road access). She knows the Hawkesbury area well and provides as much information as you can take in the tour.
She was brought up in England by a French mother and English Father making her totally bilingual. Her mother's French inspiration and cuisine flare has been passed on so that she produces great French & southern Mediterranean food. There is a good chance that a French Rose de Provence will be in the picnic. She has sailed across the Atlantic twice and won the Sydney to Hobart. She loves people, nature and food and really looks forward to hosting a great time for you and your friends.
Contact Chantal
Please phone or leave an email message below. Reservation essential!
E-mail: [email protected] Telephone: 02 9456 4811      
Annual Events
Attractions
Whale Watching
Best Beaches
Family Beaches
Dog Beaches
Bouddi National Park
Brisbane Water National Park
Wyrrabalong National Park
Ku-ring-gai Chase National Park
Avoca Beach
Macmasters Beach
Pearl Beach
The Entrance
Toowoon Bay
Lake Macquarie
Blue Mountains
4 Hawkesbury River Cruises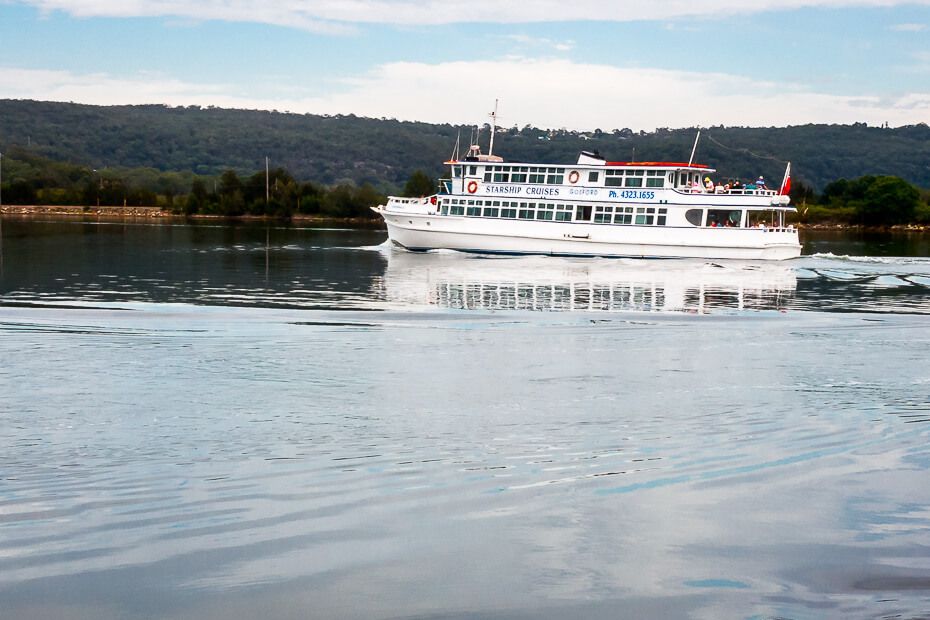 Embarking on one of these great Hawkesbury River cruises is a great way to explore the stunning reach of the lower river.
Contemplate scenic waterways, rugged cliffs, trees, and wildlife. Savour tasty food, hear entertaining commentaries, and see a dolphin or two if you're lucky (I can assure you they're there!) …
This post contains affiliate links. For more information, see my disclosures here . 
The Hawkesbury River is not very far from Sydney, only an hour away. Yet I can't think of a greater contrast between the tranquil river and the hectic city.
Thinking of it, these Hawkesbury River cruises below offer a fabulous escape from the daily grind.
But which one to choose? Decisions, decisions, decisions…
Make an informed choice by reading below...
1. Riverboat Postman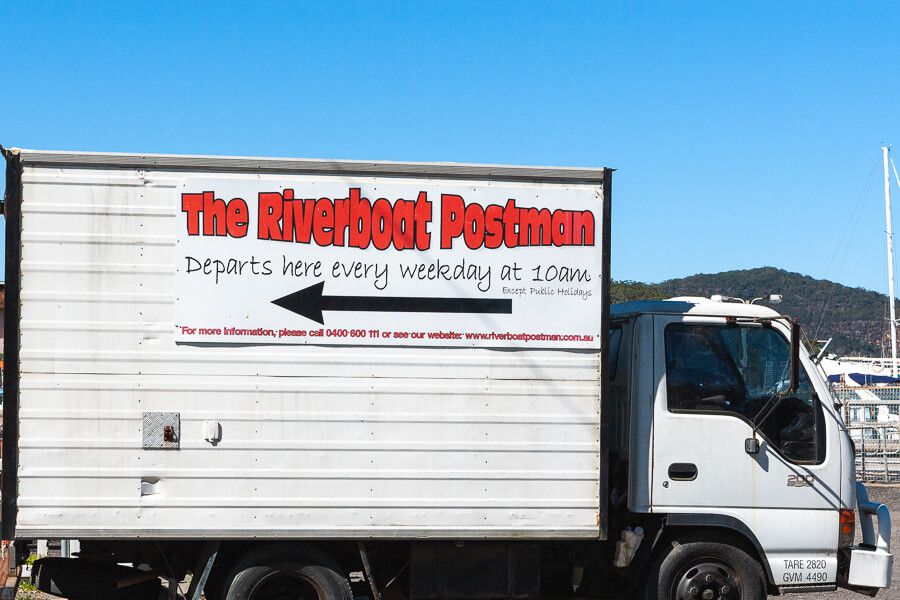 Experience one of Sydney's best day out and most popular cruise on the Hawkesbury River…
The Riverboat Postman is easy to access from Sydney or the Central Coast, and this cruise is excellent value for money.
The Riverboat Postman will transport you into another world; it will take you back in time.
The cruise is, in fact, the last official water-run postman in Australia. Since 1910, they have been delivering mail to the isolated communities between Brooklyn and Spencer that can only be reached by boat. Today visitors can take part in the experience.
The skippers on the Riverboat Postman give informative, interesting and entertaining stories of the Hawkesbury River and settlements while the boat delivers the mail. The skippers have lived in the area all their lives, so they know a great deal about the river.
It's interesting to see how people live in the various isolated settlements dispersed around the islands. It's also amazing these secluded communities today exist so close to a large city.
Together with the interesting tour, you'll be served fresh food…
Soon after departure, they serve their famous Anzac cookie and tea or coffee. Then at midday, they serve a fresh ploughman's lunch with cold meat, salad and bread roll. You can also buy beer or wine at a reasonable price from the bar.
Sit inside the cruise on the lower deck or outside on the upper deck and enjoy the breeze.
Departure : 10 am from Brooklyn Public Wharf and returns at 1.15 pm every weekday except public holidays.
Getting there : Brooklyn Public Wharf is located right beside the Hawkesbury River Station.
D rive or catch the train on the Central Coast & Newcastle line and disembark at Hawkesbury River Station. The cruise and train schedules are well coordinated. (Note: you must climb 100 steps at Hawkesbury River Station.) Allow enough time to find parking if driving.  
Prices : Adults $59; seniors $49; school aged children $19; family $140 (2a & 2c). 
You can book online here , or call 0400 600 111.
2. Sunday on the Hawkesbury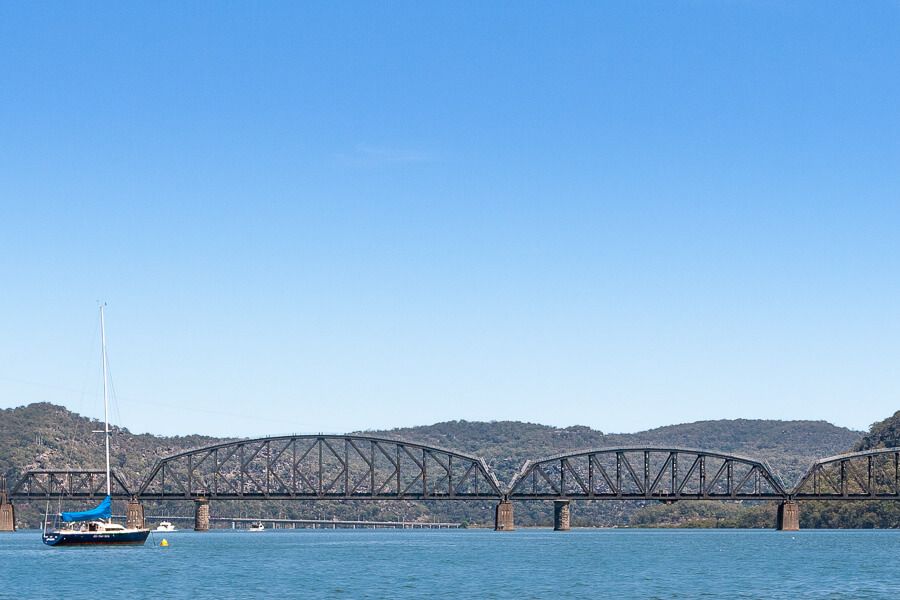 If you can't take a cruise on a weekday, experience Sunday on the Hawkesbury . It's run by the same company as the Riverboat Postman: Hawkesbury Cruises.
You'll cruise and learn about the history of these seven islands: Lion, Dangar , Spectacle, Long, Milson, Peat, and Bar Islands, travel past isolated communities that can only be reached by boat, and see the wreck of the HMAS Parramatta.
This cruise serves fresh fish n chips for lunch, and you can buy a glass of wine or beer from the bar. 
Departure : 11 am and returns at about 2 pm on Sundays.
Drive or catch the train on the Central Coast & Newcastle line and disembark at Hawkesbury River Station. The cruise and train schedules are well coordinated. (Note: you must climb 100 steps at Hawkesbury River Station.) Allow enough time to find parking if driving.  
Prices : Adult $59; senior $49; school aged children $19. 
Book online here , or call 0400 600 111.
3. Boathouse Ferry Co.
Operating the original Palm Beach ferry 'Merinda II', the Boathouse Ferry Co. offers scenic rides between Patonga, Palm Beach and Newport.
Enjoy stunning views of the Barrenjoey headland and West Head along the way.
It's a great way to enjoy a day at Patonga Beach and the Boathouse Hotel or Palm Beach.
Read more on the best things to do in Patonga . 
Read more on the best things to do in Palm Beach . 
Departure : 
The ferry runs several times daily. Check the timetable here . 
Getting there : 
To get to Palm Beach, drive or catch the L90 bus from Sydney Central, Town Hall or Wynyard. Allow plenty of time to find parking if driving. 
Off-street parking is available and free in Patonga.  
One way: $15;  Return: $25;  Free for children under 5; half price for children over 5
Visit Boathouse Ferry Co. website .  
4. Nepean Belle Paddlewheeler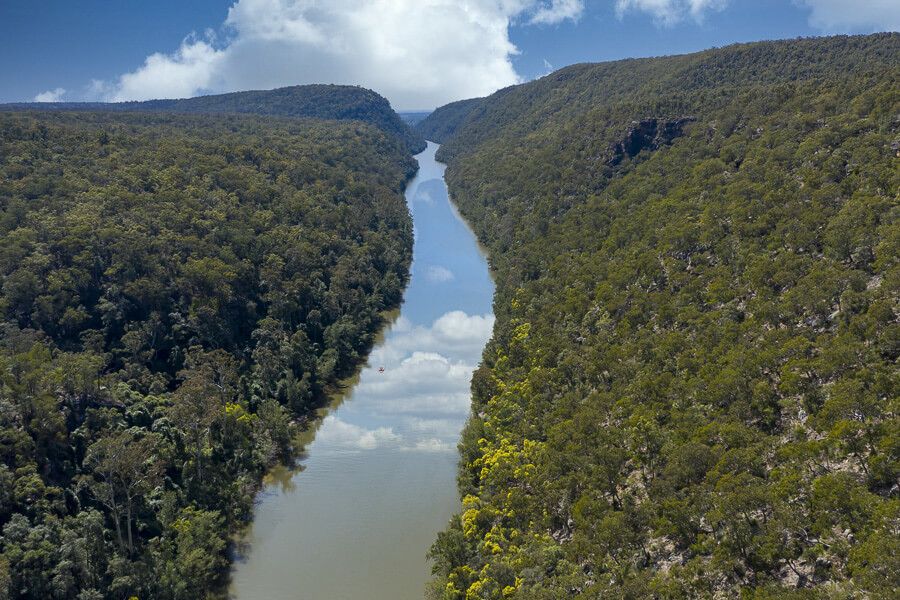 Enjoy a relaxing cruise down the Nepean River with plenty of delicious food aboard the Nepean Belle Paddlewheeler . Pick a morning cruise, a 2.5-hour midday scenic cruise or a longer twilight journey.
Morning in the Gorge is a 1.5-hour cruise starting at 9.30am. You'll enjoy fresh scones with tea or coffee and beautiful views of the sandstone peaks of the Nepean Gorge. From $33pp. 
Scenic Adventure Cruise is a 2.5-hour cruise starting at 11.30am. Enjoy the beautiful scenery of the Nepean Gorge and a delicious lunch. From $59pp. 
Twilight River Feast is a 3-hour cruise starting at 5.30pm. Meander past the gorges and savour a tasty meal while taking in the scenic views. Adults $79 and children $39 (3-12 yrs).
During the Christmas season, the Twilight River Feast is replaced by the 3-Course Christmas Season Dinner Cruise.
The Nepean Belle Paddlewheeler operates from Wednesdays to Sundays, rain, hail or shine.
It's suitable for people of all ages. They can accommodate a limited number of walking frames, prams and have highchairs available. Let them know at the time of booking, or choose the appropriate option when booking online.
Also, let them know at the time of booking if you have any dietary requirements.
The paddlewheeler is air conditioned!
Getting there : Boarding is at 128 Factory Road, Regentville.  Click here for directions . Parking is available near the jetty.  
Book online here  or call 02 4733 1274.
You May Also Like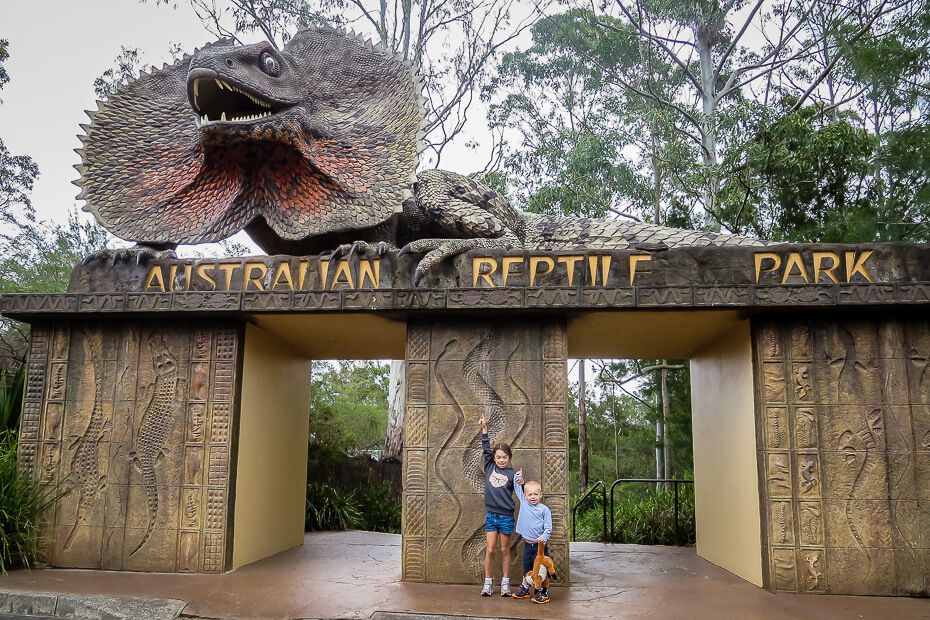 The Australian Reptile Park (Insider's Guide) - iCentralCoast
Read this local's guide to the Australian Reptile Park, a must-see attraction on the Central Coast Australia.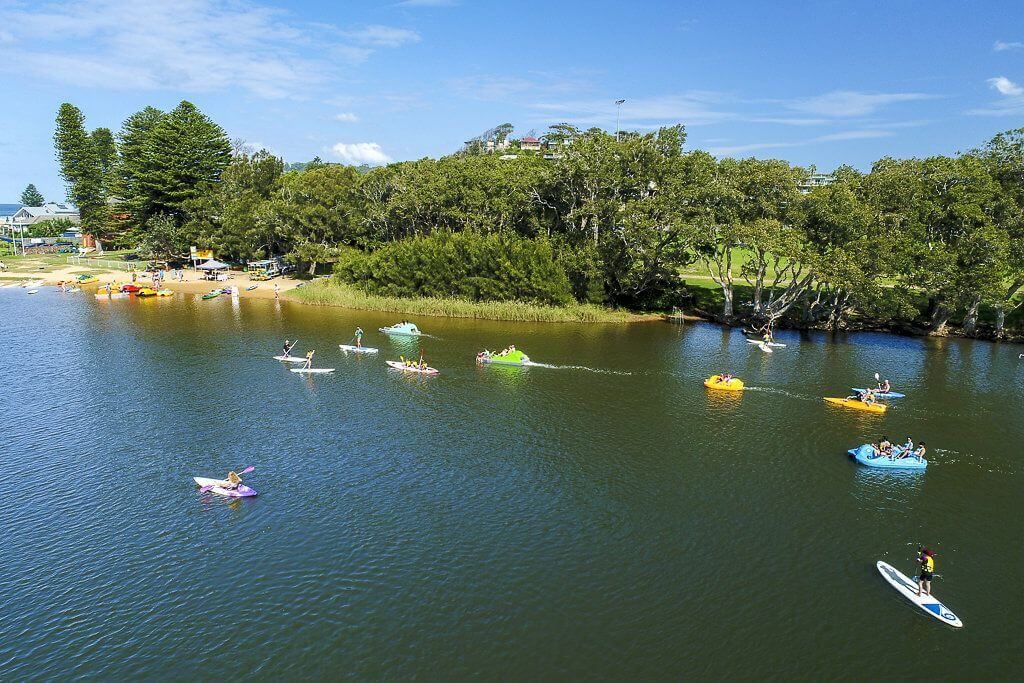 Aquafun Avoca Lake
Hire kayaks, pedal-boats and stand up paddle boards at Aquafun Avoca Lake. A must-do activity at Avoca Beach.
Somersby Falls - iCentralCoast
Somersby Falls is one of the most popular attractions on the Central Coast NSW. Find out here what to expect during your visit.
Home          About          Advertise          Contact

* As an Amazon Associate, I earn from qualifying purchases.
* Amazon and the Amazon logo are trademarks of Amazon.com, Inc. or its affiliates.
Copyright © 2016-2023 city  Christine Lemieux , iCentralCoast | All rights reserved. |   Privacy Policy & Disclaimer
Discover The Hawkesbury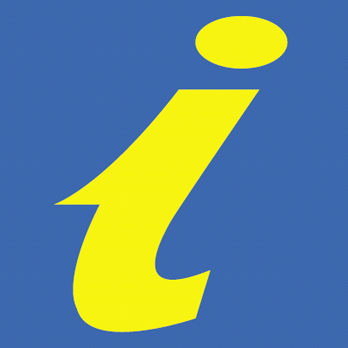 River Cruises
At 120km the Hawkesbury River is Sydney's longest and most diverse river. Why not explore the tranquil river on a beautiful river cruise, discovering all its personalities including world heritage bushland, fertile farming plains and historic settlements.
Search for ... -- Leave empty -- Premium Normal
Hawkesbury Paddlewheeler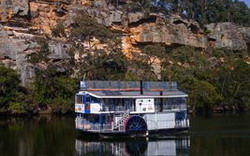 0401 798 088
Cruise along the tranquil Hawkesbury River on a genuine paddlewheeler. Enjoy morning tea or lunch while listening to the churning paddles as she slowly takes you along one of the most colourful waterways in Australia. Please check with the Hawkesbury Paddlewheeler for bookings.
Nepean Belle Paddlewheeler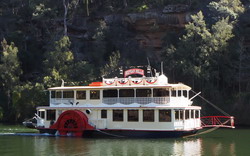 Boarding Jetty, Tench Avenue, Penrith NSW 2751
02 4733 1274 or 02 4733 1888
Cruise through the spectacular Nepean Gorge on a true paddlewheeler for morning tea, lunch or dinner. Charter our traditional paddlewheeler or modern cruiser for weddings, anniversaries, reunions or corporate functions.
Acknowledgement of Country
Council acknowledges the Dharug and Darkinjung people as the Traditional Custodians of the Hawkesbury and pays respect to Elders past, present and emerging.
© Copyright 2023 Discover The Hawkesbury
The Best Hawkesbury River Cruises
Looking for a unique and one-of-a-kind experience in Hawkesbury Valley? Enjoy stunning views of the  Hawkesbury Valley  as you embark on an exciting river cruise.
Crowne Plaza Hawkesbury Valley  is conveniently located close to the Hawkesbury River, giving you access to many river cruises that will help you experience the Hawkesbury Valley in a whole new light.
We've compiled a list of the best cruises in the Hawkesbury River . Hop on one of these boats and enjoy good wine and local food as you explore one of Australia's most beautiful rivers!
The Hawkesbury Paddlewheeler
Enjoy the most colourful waterway in Australia by boarding the charming  Paddlewheeler . The Paddlewheeler (formerly known as Turrumburra) was built and launched in 1976 by The Reynolds family on the banks of the Lane Cove River. She operated in Lane Cove River and was relocated to Windsor in 1996. It's one of the few genuine paddle wheelers still in operation in Australia.
Enjoy your morning tea with fresh scones, jam and cream as you watch the sunrise above Hawkesbury's hills. Complete lunch packages that include meats, salads and hand-made desserts are also available. The Paddlewheeler operates every day of the week and the cruise lasts about two hours.
Holiday special cruises on the Paddlewheeler come with extra events for you and your family to enjoy. There's live music and buffet lunches that will make your special day even better! However, bear in mind that due to poor mobile reception, you'll have to purchase your tickets using cash.
Riverboat Postman
This is one of the most popular cruises on the Hawkesbury River and for a good reason. You can easily access the  Riverboat Postman  from both Sydney and the Central Coast. The Riverboat Postman will take you on a trip through history, with skippers that tell informative and entertaining stories about the Hawkesbury River and its settlers.
Settlements close to the banks of the Hawkesbury River were some of the first in Australia. Soil close to the river was fertile and the large waterway offered easy transportation between NSW's most populated areas. To this day, small and secluded communities still thrive on the banks of the river. The Riverboat Postman delivers mail and other essentials to the river-access-only settlements along the Hawkesbury River.
This interesting tour comes with fresh food that's served on the ship's upper deck. Soon after departure, you'll be treated to their famous Anzac cookie with tea or coffee. Lunch includes cold meat, salads and bread rolls. Drinks and alcohols are bought separately from the ship's well-equipped bar.
The boat departs at 10 am from  Brooklyn Public Wharf  and returns a bit after 1pm every weekday, with the exception of public holidays. If you're looking for a fun way to experience the marvels of the Hawkesbury River while also learning more about the area's long history, then hop on the Riverboat Postman and enjoy the trip! With discounted tickets for children and seniors, this is the ideal family outing on a sunny day.
Sunday on the Hawkesbury
You may not be able to take a cruise on a weekday but worry not! To keep everyone happy, Hawkesbury Cruises (the same company behind the Riverboat Postman) runs a  special cruise  on Sundays when there's no mail to deliver!
On Sunday, The Riverboat postman will take you on a trip to the Seven Islands in the spectacular lower Hawkesbury River. Enjoy stunning views while you learn more about the history and heritage of the river's beautiful islands: Lion, Dangar, Spectacle, Long, Peat, and Milson Islands.
This cruise follows a different path as it travels on the opposite end of the river, meaning that you can enjoy both cruises without much overlap. The cruise lasts a bit over three hours and will take you on an amazing journey throughout Australia's most beautiful waterway. The views of the ocean behind  Lion Island  are absolutely stunning so make sure you bring your camera with you!
A fantastic fish 'n' chips lunch is included with your ticket and you can buy drinks on the boat's fully licensed bar. The parking area fills up extremely quickly so make sure you allow extra time to find a park if driving. Don't stress yourself out. Arrive by train to avoid stressful situations and enjoy the spectacular cruise without having to worry about anything else!
Palm Beach and Hawkesbury River Cruises
This is a  long cruise  that includes several stops, giving you the opportunity to explore more great locations while still cruising along the beautiful Hawkesbury River. The boat travels from Palm Beach to Cowan Creek, but drops off and picks up passengers at Patonga, Cottage Point Inn and Bobbin Head. It departs at 11am and returns to Palm Beach at 3:30pm.
Patonga is only 30 minutes from Palm Beach across Broken Bay. Patonga is the most isolated beach town on the Central Coast. You'll find a small art gallery,  The Boathouse Hotel , and a popular seafood shop. You can go swimming, fishing or kayaking in this relaxing beach town. There are also plenty of scenic walks and hikes around the area. You have approximately three and a half hours until the ferry returns to take you back to Palm beach at 3pm.
Cottage Point  is perfect for a fresh meal beside the water. If you want to eat here, you'll need to make sure you book early and that you call to let the owners know you'll be arriving by ferry. You only have about two hours to complete your meal before the ferry returns to pick you up on its way back.
Bobbin Head is a beautiful spot in between the Berowra Valley and Garigal National parks. You can picnic in the wider area around the river, but keep in mind that you only have an hour or so before the ferry returns to pick you up.
This long cruise runs Friday to Monday but also operates daily during school holidays. You can catch the ferry at any of the three locations mentioned above. Tickets are relatively cheap and the ride itself is slow but enjoyable, giving you plenty of time to take everything in and really enjoy your time on board. You don't have to book ahead but make sure you bring cash here too.
Starship Cruises
Starship cruises  have been operating cruises on Brisbane and Hawkesbury since 1985. The beautiful (and classy) MV Lady Kendall offers visitors with everything they need to have an amazing time. With a kiosk, fully-licensed bar, two internal staircases and a disco-equipped dance bar, this all-timber boat can easily accommodate and entertain 200 passengers.
Starship Cruises offers two different cruises. The first cruise is a long  6.5-hour cruise  that explores the majestic scenery of Brisbane Water, Broken Bay, Pittwater, and the Hawkesbury River. Aboard the beautiful Lady Kendall, you'll be served morning tea as well as lunch and afternoon tea, but you'll have to buy your own drinks and alcohol from the bar.
You'll cruise past Lion Island, Barrenjoy Head,  Ku-Ring-Gai National Park , Dangar Island, Brooklyn, and  the wreck of Parramatta . If you're looking for a full-day cruise with great commentary and lots of humour, then this one's for you. It departs at 9:30am from Gosford Public Wharf but only runs three to four times a month.
The shorter  Brisbane Water Cruise travels  mainly around Brisbane water. It runs Saturday to Wednesday and departs at 10:15 am from Gosford wharf and 10:40 am from Woy Woy wharf.
Your Hawkesbury Valley experience will not be complete without a cruise along the stunning Hawkesbury River. Discover more about the region's history by taking a family river cruise that you'll remember for a long time to come!  Book with us  at Crowne Plaza Hawkesbury Valley for easy access to the region's best river cruises!
Hawkesbury River
Duration: 4 Days
Location : Brooklyn, NSW
HAWKESBURY RIVER CRUISE
DAY 1: Arrive at the Brooklyn Wharf @11am where our 'Spirit Australia Cruises' crew will greet you & collect luggage. Be welcomed aboard 'Spirit II' at the Brooklyn wharf and cruise the lower reaches of the Hawkesbury, passing Dangar Island where the post is delivered to settlements by boat. We are now deep in the Ku-ring-gai Chase National Park, cruise on into Refuge Bay to view the stunning waterfall cascading down the cliffs, then pass by Cottage Point and Bobbin Head before cruising further down to Pittwater exploring Elvina Bay before mooring at our overnight destination.
OVERNIGHT: 'METRO MIRAGE NEWPORT' FOR DINNER, BED & BREAKFAST
DAY 2: After Breakfast cruise upstream under the Hawkesbury River Bridge, cruise into Berowra Waters and Berowra Creek and call into Bar Island with historic church ruins & rich history on our way to overnight destination. Wiseman's Ferry is a picturesque village set on the banks of the Hawkesbury River; you will enjoy two nights in this very special place.
OVERNIGHT: 'THE RETREAT AT WISEMAN'S FOR DINNER, BED & BREAKFAST
DAY 3: After breakfast cruise upstream to historic Windsor for lunch and a visit to the Hawkesbury Regional Museum. Pass by lower Portland, Sackville and the Cattai National Park. After lunch we return to the boat and cruise back to Wiseman's Ferry. A relaxed day with wonderful Hawkesbury river scenery.
OVERNIGHT: 'The Retreat at Wiseman's' for Dinner Bed & Breakfast
DAY 4: Enjoy breakfast before we board the boat one last time and cruise downstream and enjoy morning tea onboard. We will conclude the cruise, dis-embark at the Hawkesbury River Station at approximately 11:00am for your onward journey.
Start Booking Now
Please enable cookies in your browser to place a booking how do I enable cookies?
Enter Number of Participants *
Choose a date *, choose a time *.
Booking Software for Cruises by Rezdy.com | Agent login
Lunch Cruises
dinner cruises
lunch cruises
casual cruises
sightseeing cruises
sunset cruises
whale watching cruises
anniversary party cruises
party cruises
birthday party cruises
christmas party cruises
christmas day lunch cruises (25 december)
boxing day cruises (26 december)
NYE fireworks cruises (31 december)
australia day cruises (26 january)
australia day fireworks dinner cruises
valentine's day cruises (14 february)
KPMG australia sail grand prix
vivid sydney cruises
Dolphin Watching cruises
Central Coast
South Coast
Mid-north Coast
Port Macquarie
River Cruises
Snorkel and Dive Tours
Port Douglas
Rosslyn Bay
Sunshine Coast
Whitsundays
Murray Bridge-Mannam
Eyre Peninsula
Murray River
Bruny Island Cruises
Full Day Tours
Gordon River (Strahan)
Wineglass Bay
Sightseeing Cruises
Mornington Peninsula
Wilson Promontory
Whale Watching Cruises
Coral Coast
Agent Portal
Riverboat Postman Hawkesbury River Cruise
4.5 based on all time ratings
Be a part of history with this unique mail delivery river cruise down the elegant waters of Hawkesbury River. A must-do experience on the Central Coast of NSW, the Riverboat Postman invites you and your group to an immersive sightseeing and dining experience on the serene Hawkesbury River. Floating down the tranquil waters of this iconic river is the ultimate way to discover its charming sights and attractions Come face-to-face with the grand Hawkebury and its fleeting nooks and crannies from the country's last river postal service that carries both packages and passengers! Cruise past river-access-only settlements – Dangar and Milson Islands, Bar Point, Marlow Creek, Kangaroo Point, Fisherman's Point and Milson's Passage – as mail and other essentials get delivered! Admire the abstract landscapes while the skipper makes you feel more connected with his gripping tales of the past! Morning tea, percolated coffee and homemade Anzac biscuits will be served on departure and around midday, you can head back inside for a Ploughman's-style lunch. You can always pair them with Aussie wines, beers or soft drinks, which can be bought from the fully-stocked bar on board! Whether you're a first-timer or a resident, everything seems a bit more magical when viewed from the waters! The Riverboat Postman adds an extra oomph to it! Book now!
Cruise Inclusions
Additional Info
Terms Of Services
Departure Details
Departure Location Brooklyn
Boards 09:30
Departs 10:00
Returns 13:15
Historic 3-hour mail delivery cruise
Experience the magnificent scenery of the Hawkesbury
Coffee, tea & Anzac biscuits
Ploughman's-style lunch served on board
Licensed bar – beer, wine, soft drinks, water
Additional Information
We use any one, or sometimes all three, of our boats on the run, depending on the number of people joining us. It's best to always book as a group if applicable rather than individually to ensure you are all allocated to the same boat.
Please refer to our full passengers terms and conditions on the following link; https://www.australiancruisegroup.com.au/national-terms-of-services
Book & Cruise
Adult Price
from $64 $74
Child Age 5 - 14
Group Bookings
Cruising with a group of 10 or more? Get in touch with our team to get the best price.
Exclusive Hire
This boat is available for private charter – See how we can tailor the experience for your next event.
You May Also Like
3-Hr Riverboat Postman Sunday on Hawkesbury Cruise
Duration 3hr
32 The Promenade, King Street Wharf, Sydney, NSW 2000, Australia
Your cruising experience begins here!
Sign up now for latest news & updates.
Sydney Cruises
Cruise Operators
Top Rated Australian Crusies
Popular Locations
Terms Of Use
Clearview Cruises
Magistic Cruises
Showboat Cruises
Hobart Historic Cruises
Oz Whale Watching Cruises
NYE Fireworks Cruises
Christmas Party Cruises
Casual Cruises
Private Deck Function Venues
Boxing Day Cruises
Australia Day Cruises
KPMG Australia Sail Grand Prix
Vivid Sydney Cruises
Party Cruises
Christmas Day Lunch Cruises
Valentine's Day Cruises
Gift A Cruise
Guest Comments
Why Choose Us?
Guiding Principles
Leadership Team
Corporate Responsibility
Gift Vouchers
Group Portfolio
Blogs & Articles
Legal Information
© 2023 Australian Cruise Group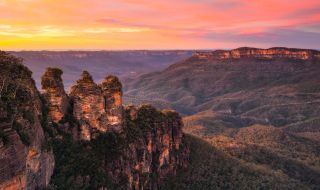 NSW Road trips
Accommodation
Be inspired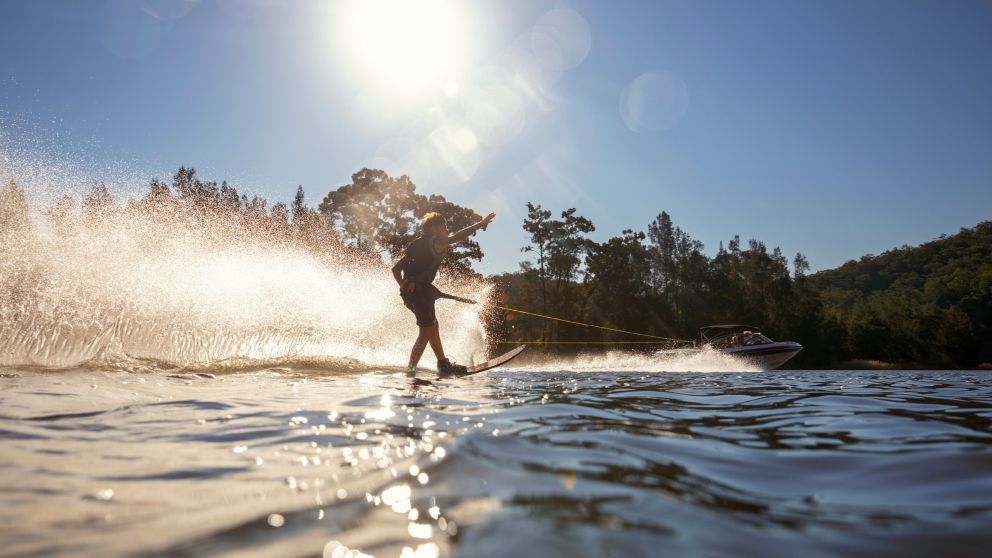 Hawkesbury River Activities
There are many memorable ways to enjoy the beautiful Hawkesbury River, from houseboat holidays to river cruises, kayaking, fishing and boating. You'll find all these activities and much more in the Hawkesbury, as the river meanders past historic towns and magnificent national parks.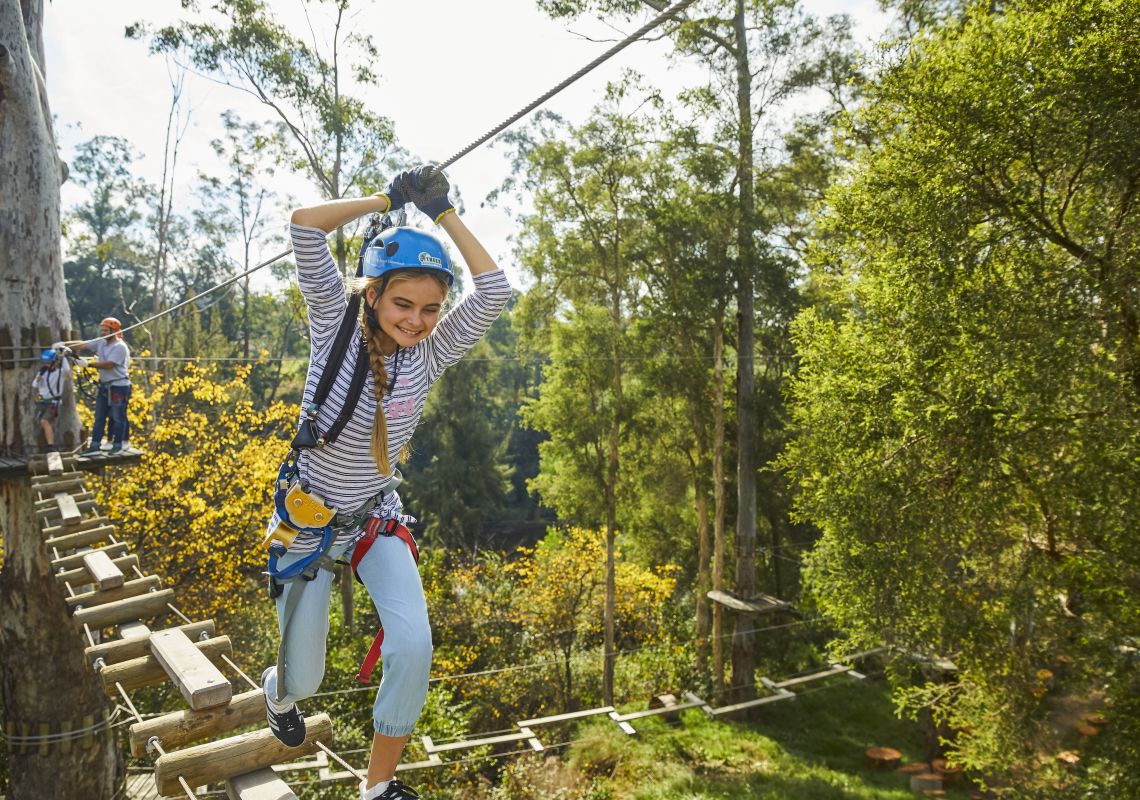 The river begins at the confluence of the Nepean and Grose rivers near Yarramundi , just west of Windsor , the third British colonial settlement in Australia. The waterway runs to its mouth at Broken Bay where it flows into the sea. Tidal influences reach as far as the upper Hawkesbury River.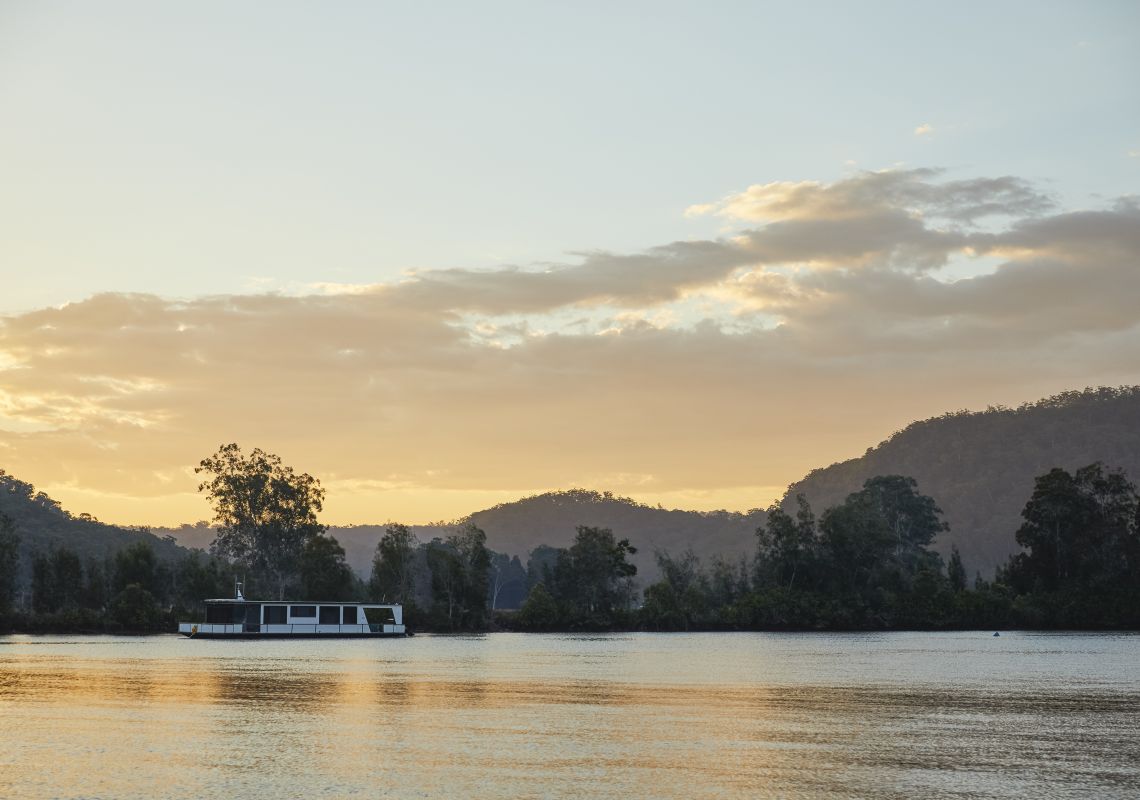 Houseboat holidays
Once described by a colonial judge as the 'Nile of New South Wales', the tranquil waters are perfect for a weekend escape or short break. A wonderful way to relax and soak up the natural beauty of the river is a houseboat holiday. You don't need a boat licence to hire and captain a houseboat.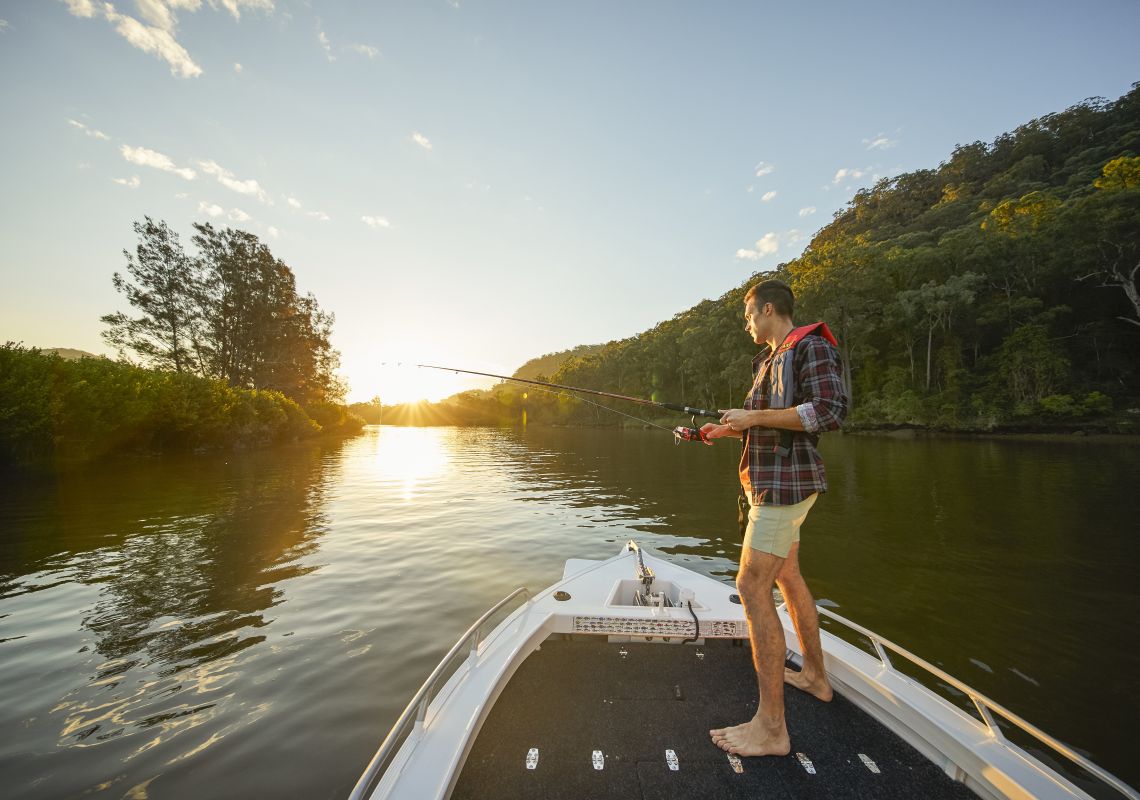 Able Hawkesbury River Houseboats is at Wisemans Ferry, near the UNESCO World Heritage-listed Old Great North Road walking track in Dharug National Park . There are eight types of houseboats for hire that suit various budgets, from two-berth houseboats to luxury houseboats with rooftop spas.
Steer upstream to Windsor and downstream past wilderness to places such as Spencer, Berowra Waters and Brooklyn. Able Hawkesbury also offer kayaks, half-cabin boats and runabouts for day hire.
Fishing & kayaking
Cast a line for fish along the river and tributaries. Near the river mouth bream, snapper, mulloway, tailor and whiting all bite. There are boat ramps at various locations, including Governor Phillip Park in Windsor and Wisemans Ferry.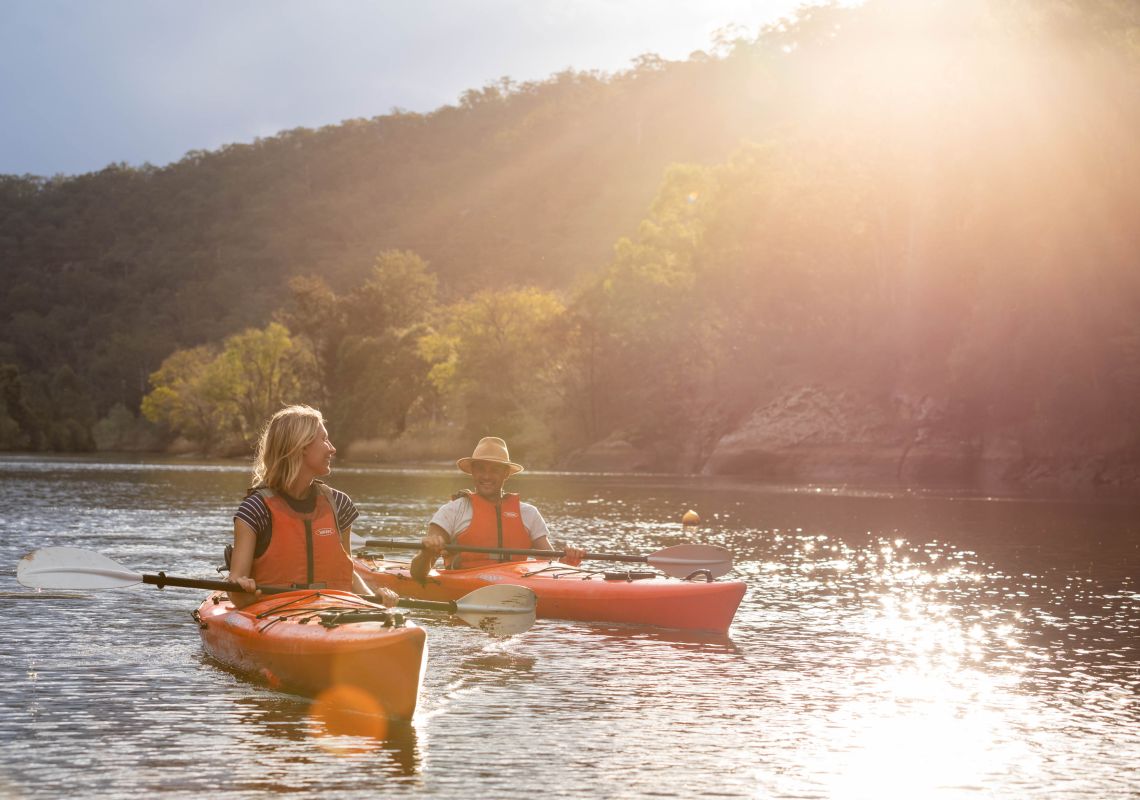 Kayaking is a lovely way to enjoy the river. You hire kayaks from Hawkesbury Kayaks at Wisemans Ferry. Or join a guided kayak tour with Southern Cross Kayaking . Kayak tours depart from various locations, including Windsor and Cattai National Park .
For thrill seekers, the Hawkesbury is a popular waterway for a range of water sports. Waterskiing, wakeboarding and tubing are just a few of the fun activities. The Bridge to Bridge Water Ski Classic is a prestigious race from Broken Bay to Windsor. The annual race was first held in 1961.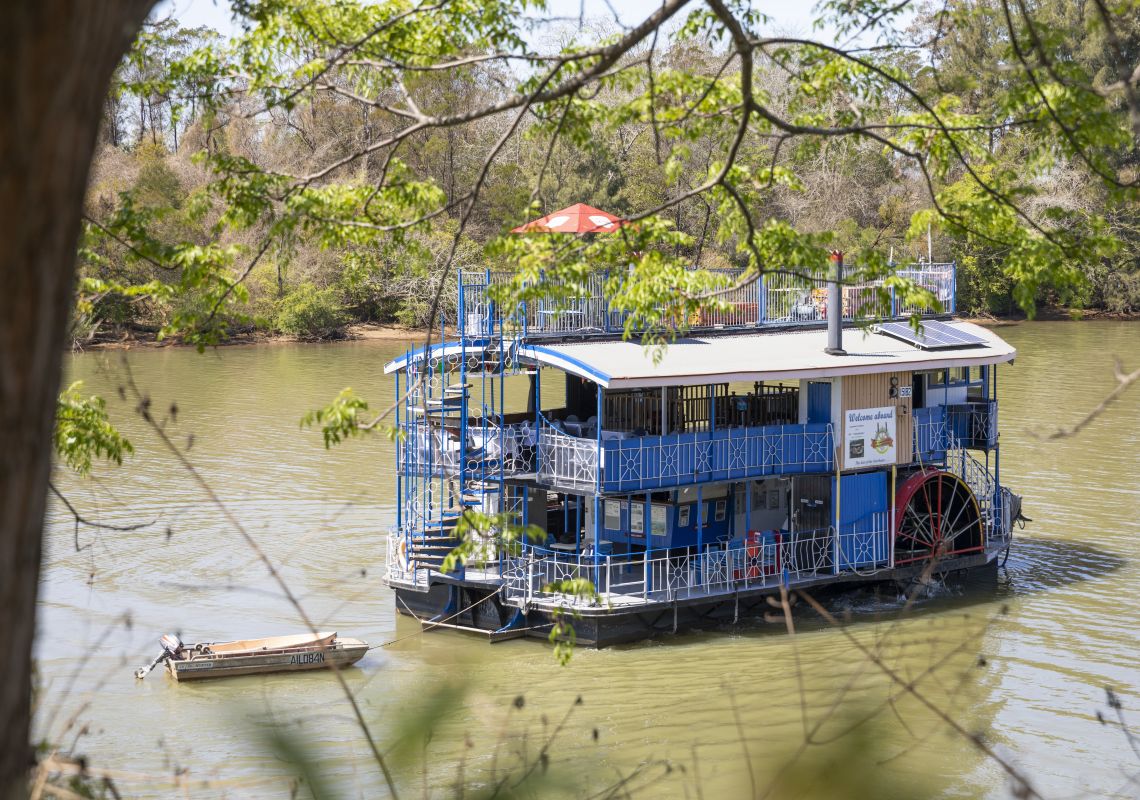 Cruise the waters
Other things to do include relaxing on a riverboat while enjoying morning tea or lunch. Aboard the Hawkesbury Paddlewheeler take a trip back to the 1800s when steamships travelled the waterway. (Note that cruises are currently on hold and will restart in spring 2021.) Or hop aboard the River Postman in Brooklyn and follow the mail route along the calm waters.
River Activities Highlights
Explore the hawkesbury river, travel inspiration.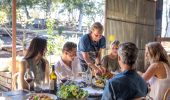 Food bowl & farm stay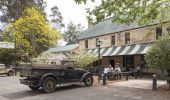 Heritage & culture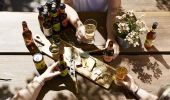 Gourmet getaway itinerary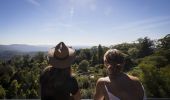 Go off the grid
Plan your trip.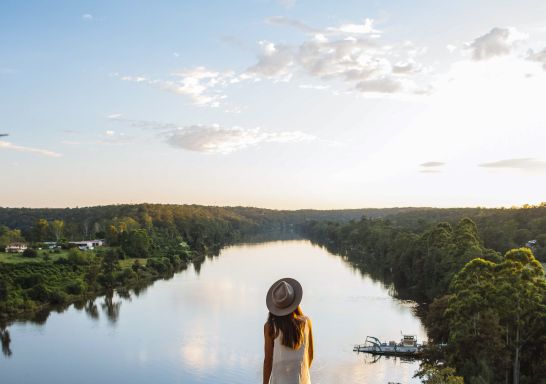 A local's guide to the Hawkesbury
Places to stay

Inspiration straight to your inbox
Subscribe to our newsletter in order to stay up to date for all the upcoming events, news and inspiration.
Never miss out on news and events
Discover Somewhere New
All the insider news, tips and inspiration you need to plan your next trip, delivered straight to your inbox.
Destination NSW acknowledges and respects Aboriginal people as the state's first people and nations and recognises Aboriginal people as the Traditional Owners and occupants of New South Wales land and water.
NSW Government
Destination New South Wales (Corporate site)
Sydney.com is the official tourism site for Destination NSW. © Copyright 2023 Destination NSW. All rights reserved
Riverboat Postman Cruise, Hawkesbury River Hidden Gem
Wondering what the Riverboat Postman Hawkesbury river cruises is like? When we found out about the Riverboat Postman Cruise , we couldn't believe that firstly it's a really cheap day out from Sydney via public transport and it's a whole lot of fun too!
It's not randomly called the Riverboat Postman Cruise. You actually go and watch the postman deliver the mail to all of the remote homes on a three hour cruise around the Hawkesbury River.
I'm sure everyone has driven over the Hawkesbury River Bridge at one time or another when driving up the coast from Sydney. It's that moment when you cross over the bridge that you feel like you've completely left the city behind whilst looking over to those dreamy river vibes.
But, if you've always wanted to go on a Hawkesbury River cruise, we recommend going on the Riverboat Postman Cruise like we did!
When we found out about the long running tradition of the Riverboat Postman Cruise, we knew we had to check it out.
Australia Post has been delivering mail via a boat service to its remote residents on the Hawkesbury for more than 100 years. Since they opened it up to the public, you can join them at work whilst they deliver post around seven locations along the river.
We're here to tell you all about it and how it's become a local hidden gem. Best of all, this Hawkesbury River Cruise is an incredibly affordable day out of Sydney.
When we arrived at the ticket office we couldn't believe how adorable it is. It's the perfect little boat shed you could only dream of owning one yourself.
Here's everything you need to know about doing the Riverboat Postman Cruise and what our personal highlights are too.
30 Best Day Trips From Sydney You'll Love 2023 Guide
Looking for the best day trips from Sydney? If you simply want to escape the city for the day or…
How to get to Riverboat Postman
A great thing about the Riverboat Postman Cruise is that they've wonderfully scheduled the timings alongside the trains so that everyone can experience the famous postman run.
The cruise lasts for three hours from 10-1pm and the train arrives into Hawkesbury River station from Sydney at 9:47am and leaves at 1:24pm. Did we mention the station is next door to the Riverboat Postman as well? This means you could bring the whole family along as there's next to no walking involved.
If you're driving, just head over to Dangar Road in Brooklyn which takes around 1 hour from Sydney to get to. There's a lot of free parking in Brooklyn and most parking spots will have a four hour limit which is absolutely perfect for the cruise.
Related post: The incredible Japanese Bath House in Blue Mountains
What's the route and how much does is cost.
For a great day out with your friends or family, the Riverboat Postman Cruise costs just $58 per adult, $18 per child or a family ticket is $135 (2 adults, 2 kids).
Above you can see where the cruise takes you. You'll head up past Dangar Island, underneath the Brooklyn Bridge and up to the mangroves in Marlow Creek.
What's included in the River Boat Postman Cruise?
The highlights
We were also taken to the first ever warship in Australia, the HMAS Parramatta wreck which is pretty cool to see.
We definitely recommend booking the Riverboat Postman Cruise as it gets really busy that sometimes they take out three boats!
What if you want to go on a cruise on the weekend? You can go on a three hour cruise to the popular Seven islands of the Hawkesbury on a Sunday. It leaves a little later at 11am and you'll get a local fish & chips on board for lunch 🙂
Things To Do Near Sydney
If you're looking for more things to do near Sydney, check out the below posts!
13 Best Kangaroo Valley Waterfalls & Swimming Holes
13 Unbelievable Things To Do In Lightning Ridge NSW
Best Place To See Autumn Leaves In Sydney At Breenhold Gardens
Riverboat postman hawkesbury river cruises.
Save for later and pin later
If you found this post helpful, please share it on your social media pages 🙂
Get your FREE Sydney E-Guide
I consent to the terms and conditions
Things to Do
Restaurants
Holiday Rentals
Travel Stories
Rental Cars
Add a Place
Travel Forum
Travellers' Choice
Help Centre
A wonderful day trip on the Hawkesbury... - The Riverboat Postman
South Pacific
Australia
New South Wales
Greater Sydney
Hornsby
Brooklyn
Brooklyn - Things to Do
The Riverboat Postman
Very informative.The lunch was very good Anzac biscuits for morning tea were excellent.Very... read more
We had a most enjoyable day out on the river boat postman. The commentary was informative the lunch... read more
A wonderful day trip on the Hawkesbury River
I took the day trip in June 2018 and had a wonderful time. The boat was very comfortable, the food great, staff friendly and the captains monologue was very entertaining. Met some wonderful people and had a thoroughly enjoyable day. I have already recommended it to several people.
We caught the train from Wollongong Train Station to join the River Boat Postman Run, we where all welcomed with sunny skies and a sparkling river, the staff greeted us in a very friendly manner and beautiful smiles. We where seated at our allocated table and before long we set of on the mail run, the staff started to serve morning tea with the most delicious Anzac biscuits.The captain's commentary was wonderful lots of knowledge was shared as we cruised up the Hawkesbury River docking at little villages to drop off the mail, he was also quite entertaining, there where so many interesting points along the way the scenery was stunning and time just flew, before long it was lunch time and a beautiful ploughmans lunch was served with coffee or tea and chocolates . The day was most relaxing and enjoyable a very memorable day out,we would strongly recommend this cruise to everyone.
Yummy morning tea and hearty ploughman's lunch served by very pleasant crew only enhanced the experience. Facilities were comfortable and spotless. The Captain was entertaining and very informative without going overboard!!
At $45 for Seniors this is such good value. Comfortable boat cruise along the beautiful Hawkesbury River with an interesting and entertaining commentary, seeing places only accessible by water. Add in morning tea with delicious homemade Anzac biscuit and hearty salad lunch with locally home baked bread roll. Direct train from Central Station in Sydney to Hawksbury River Station (about 1 hour) makes getting there and back a breeze. This attraction deserves to be much better known.
Easy to get to from Sydney just a train ride and if you're a senior it is only $2.50 return, only minor hassle is the stairs at the Hawksbury river station but they are not that difficult if you take it easy. The trip itself was well worth it the morning tea of hot drinks and Anzac biscuits was delicious and the ploughmans lunch was enough to feed a grown man and quite appetising, the commentary by the ship's captain was very interesting and quite amusing and informative, the service could not be faulted on any account . Thoroughly enjoyed the experience and recommend the Riverboat Postman cruise to anybody wanting to have an enjoyable experience.
The boat was very comfortable & clean. The captain did an excellent commentary throughout, very knowledgeable. The morning tea & ploughmans lunch that was served was very nice.
Stay Just One Night
Self drive houseboats, river weekenders, luxury stays, stay one night in the  hawkesbury river region.
One night  is often all the time that can be set aside for a getaway….be it a special occasion or  simply a bed for the night so you can wake up ready for the postman cruise, there are options on offer in the area.
Waterfront Bungalows . Sunny Corner 
Peats Bite offers six waterfront bungalows. Large sliding doors open to the river and views of the surrounding national parks. Relax and listen to the splash of fish and lapping water under the deck. 
Arrive by boat . helicopter . sea plane. no cars. no roads.
SPECTACULAR VIEWS | OFF GRID  |  RESTAURANT
MARRAMARRA LODGE
Luxury Tents & Bungalows . Fishermans Point
Style and luxury merge in the large, open plan tents. Perched atop the hill, each tent enjoys a panoramic view of the Hawkesbury river. Designed to enjoy the serenity and bush experience, the tents boast large riverstone bathrooms, and furnished outdoor balconies. 
One night stays available Sun – Fri
Fishermans Point. Arrive by boat.sea plane .no roads.no cars
OUTDOOR FIRE | DAY SPA  | OYSTER TOURS | RESTAURANT
Waterfront Boutique Hotel . Church Point . Pittwater
Positioned directly on the Pitwater waterfront at Church Point, Passadena offers 14 well appointed guest rooms, with picturesque views and modern bathroom amenities. A truly unique venue In a truly unique location.
Arrive by road . boat. sea plane
BEAUTIFUL VIEWS | RESTAURANT  | KAYAK HIRE NEARBY
COTTAGE POINT INN
Waterfront  Apartments . Cottage Point . Cowan Waters
Cottage Point Inn offers 2  apartments  for overnight stays, available as a dine & stay package. The Cowan Waters apartment is larger, whilst the Riverview apartment is a comfortable studio. Both feature balconies with water views.
BEAUTIFUL VIEWS | RESTAURANT | BOAT HIRE NEARBY 
PATONGA BEACH HOTEL
Boutique Hotel . Patonga Beach . Broken Bay
The Boathouse Hotel Patonga is a waterside Hotel, located in the coastal village of Patonga , Broken Bay –  at the entrance to the Hawkesbury Waterway system .  Three apartments above the hotel are idyllic for couples, families and small groups. 
Arrive by road . boat on anchor . palm beach  ferry
FAMILY FRIENDLY |  BISTRO RESTAURANT . BEACH
ANGLERS REST HOTEL
Pub Accomodation .  Brooklyn . Hawkesbury River
The Anglers Rest Hotel is in the heart of the small town of Brooklyn just 1 hr from Sydney. 8 guest rooms are available doubles & twin.  All rooms have a bar fridge with tea coffee making facilities. Shared bathroom facilities
Arrive by car or train.
RIVERBOAT POSTMAN NEARBY | BISTRO RESTAURANT 
Boutique Hotel . Palm Beach . Pittwater
Jonah's encompasses eleven recently refurbished and luxuriously appointed Ocean Retreat rooms, including the opulent Peninsula Room, and offers more space with beautifully crafted furniture pieces and a separate living area to the bedroom.
Arrive by road . sea plane
OCEAN VIEWS | LUXURY ACCOMMODATION | RESTAURANT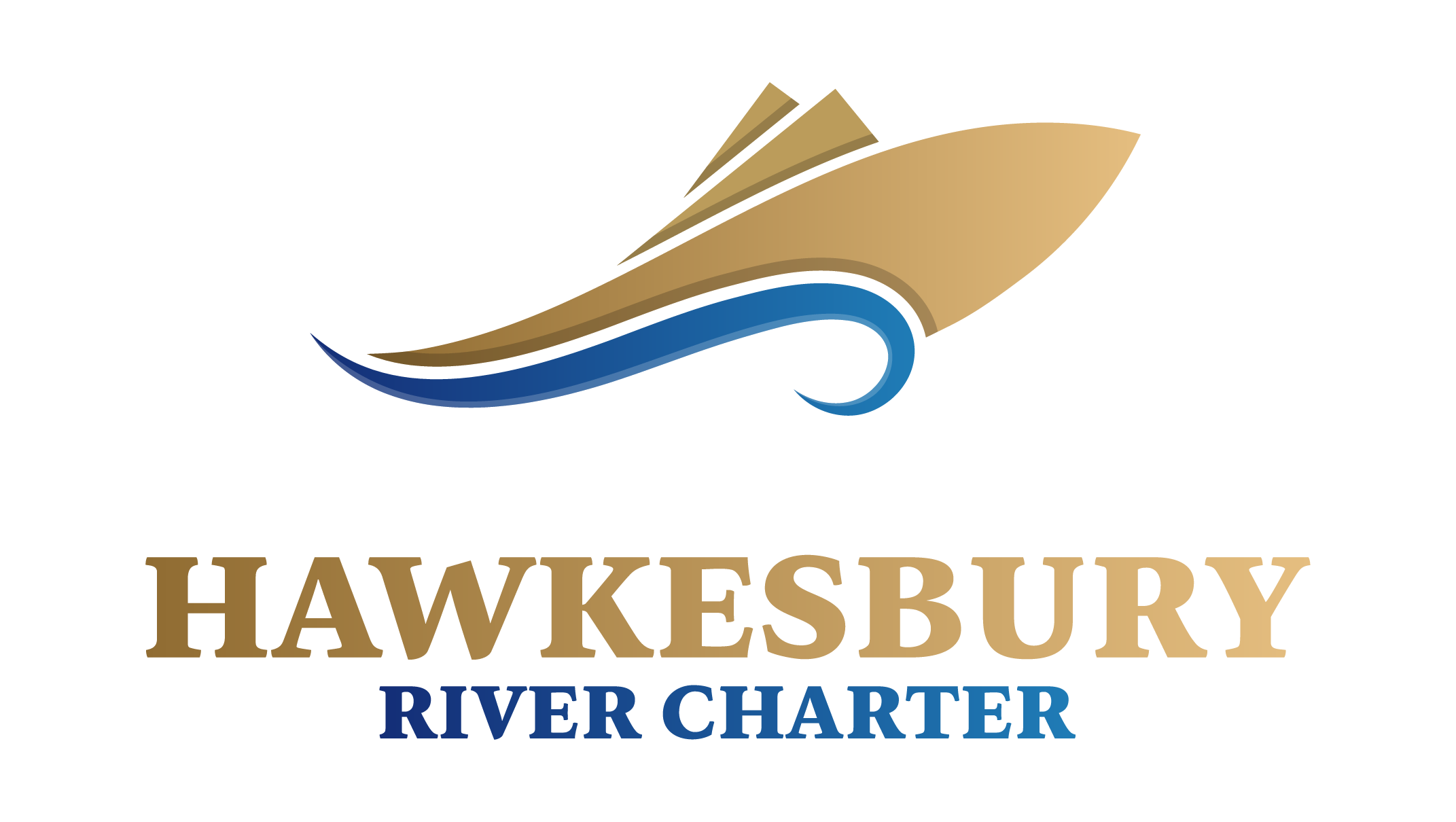 Call us anytime
Exceptional attention to every little detail, unwind on the hawkesbury in style.
Celebrate a special moment or business get together in style with a Captain on board one of our Flybridge Cruisers or sit back and relax and explore the majestic Hawkesbury River and National Parks at your own pace. No licence required houseboats. Depart from Spencer, Bobbin Head or Berowra Waters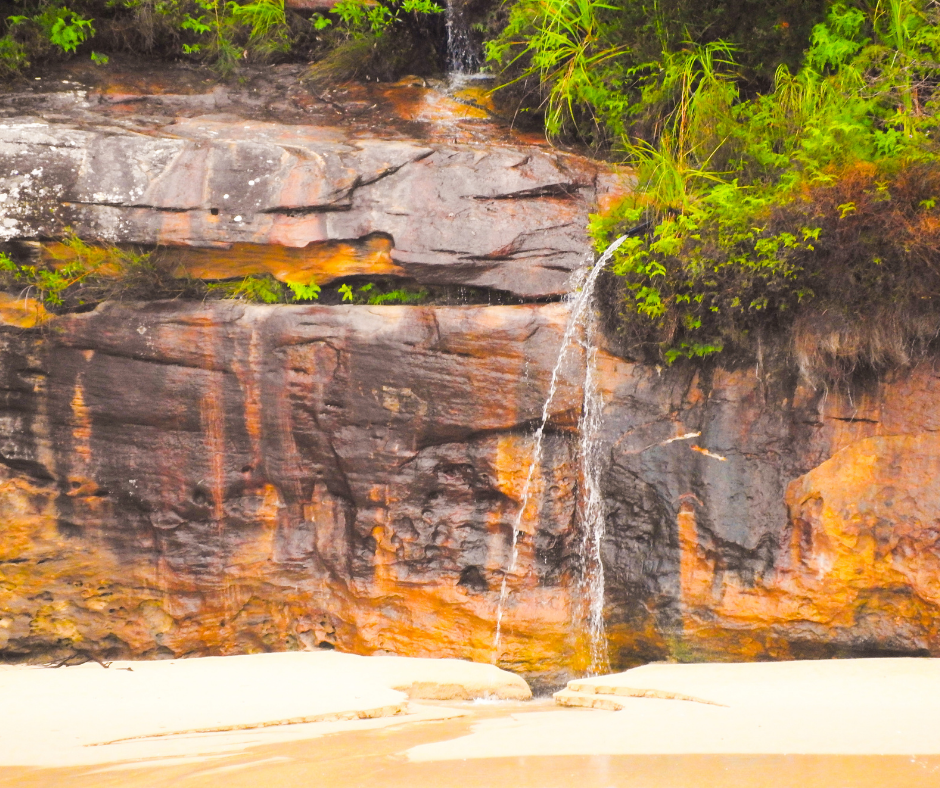 1 Day Private Boat Tour
from only $
with a professional skipper $250. 2-10 berth. -->
9am Leave for Refuge Bay or America Bay
Enjoy a BBQ Lunch on the Flybridge
Do some fishing or have a swim in the gorgeous waters of the Hawkesbury River
Take the dinghy to a sandy beach with a fresh water waterfall
Return by 4pm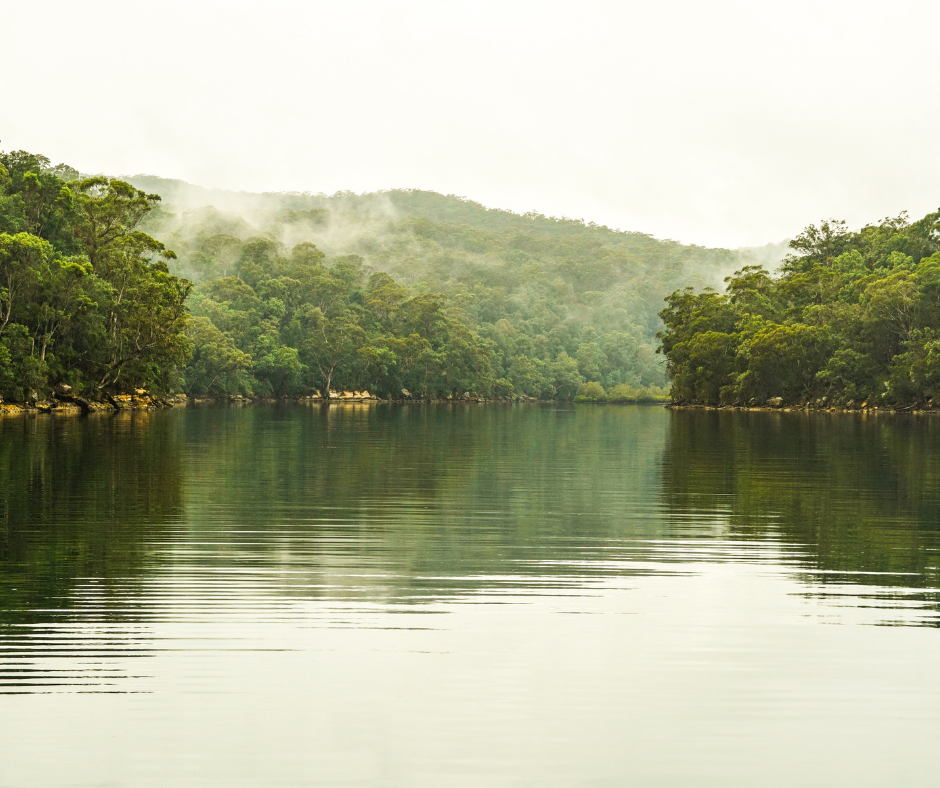 9am Leave for Joe Crafts or Deep Bay near Berowra Waters
Relax and have a few drinks or do some fishing or have a swim in the gorgeous waters of the Hawkesbury River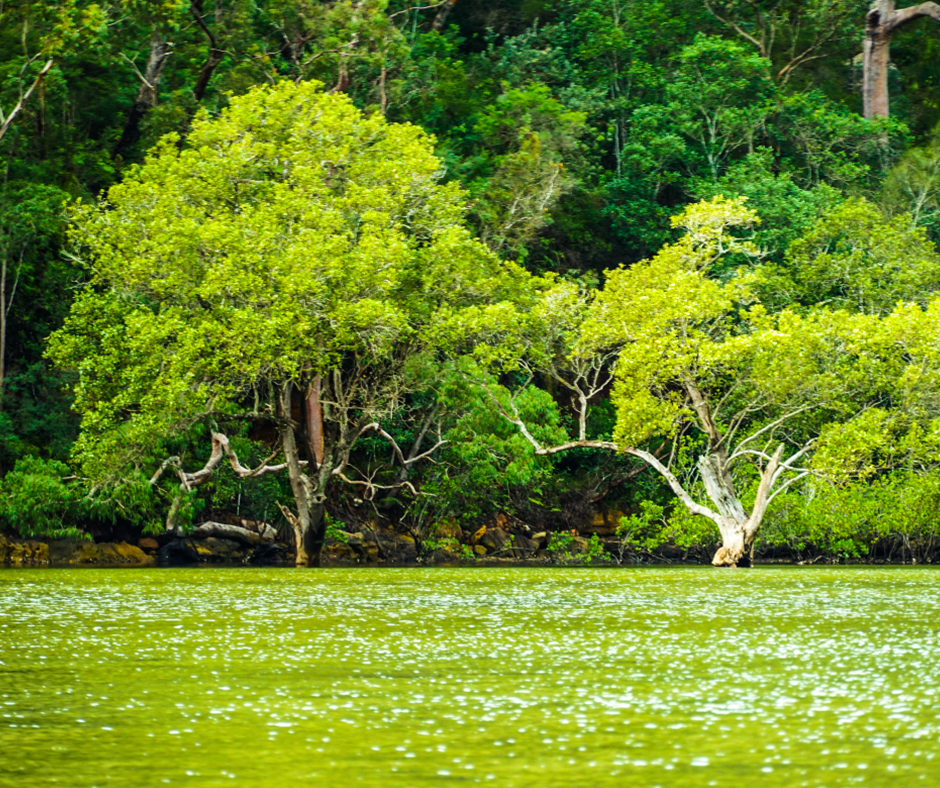 9am Leave for Kindred or Stingray bay (if you are leaving from Bobbin Head)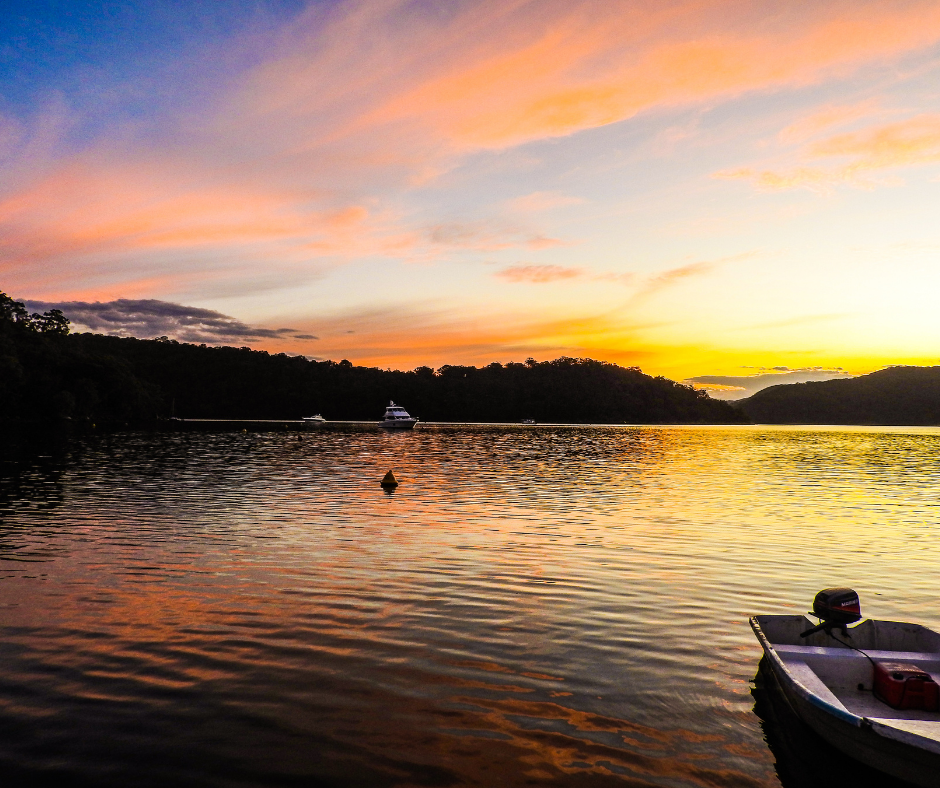 2 Day Overnight Stay
No licence Required. 2-10 berth.
Spend your first night in the magical Refuge or America Bay. Moor and pop open your Champagne and light up the BBQ. Do some fishing, exploring on shore or even some swimming pending weather.
After enjoying breakfast and watching the sun come up, take your time and enjoy a cruise over to your next destination. We highly recommend Kindred Bay, Pinta or Jerusalem Bay.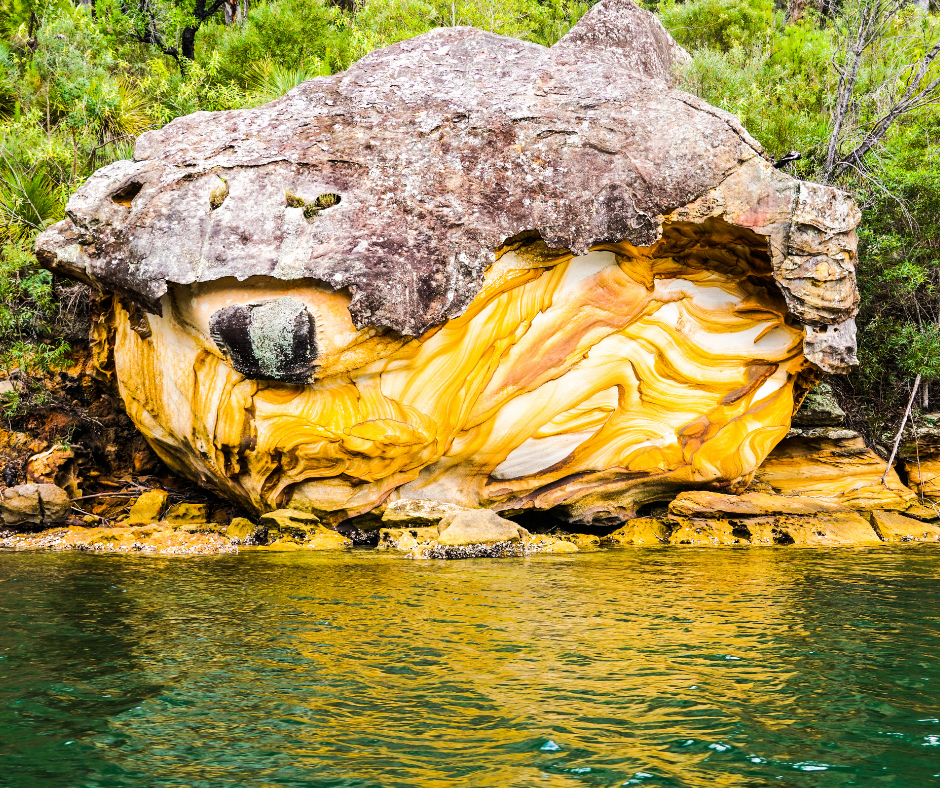 7 Day Relaxation
from only $2,760 - Summer .. $2,530 - Autumn, Spring .. $2,300 - Winter
One suggested itinerary
Day 1:  8am Pick up a coffee and/or breakfast at Water Vista Cafe at Berowra Waters Marina.  Board at 9am at the Eastern Marina on the other side of the ferry, briefing until 10am.  Rest on mooring organising.  12 noon Lunch at Mario's wonderful italian restaurant 'A Chef Secrets' – Spend your first night on a mooring in Deep Bay only 20 minutes away.
Day 2:  Relax, drink in nature.  Make way with the tide to a mooring in the magical Refuge or America Bay, approx 2 hours. Shower under the Refuge Bay waterfall.
Day 3:  Head to Hallets Beach for a swim.  Book for brunch at Cottage Point Kiosk enroute to Kindred Bay for the night.  Spend the afternoon exploring the upper reaches of Kindred Bay in the electric powered dinghy.
Day 4:  Lunch at Cottage Point Inn for a mouthwateringly beautiful degustation.  Cruise to Pinta Bay for relaxation and fishing.
Day 5: Cruise to Bobbin Head, visit the marina, Bobbin Head Visitor Centre. Stay overnight on a mooring close by.
Day 6: Cruise back to America Bay for another glorious sunset.
Day 7:  Cruise to Joe Crafts Bay for lunch and fishing.  Be met by your pilot at 3.30pm to arrive back at the marina for disembarking at 4pm.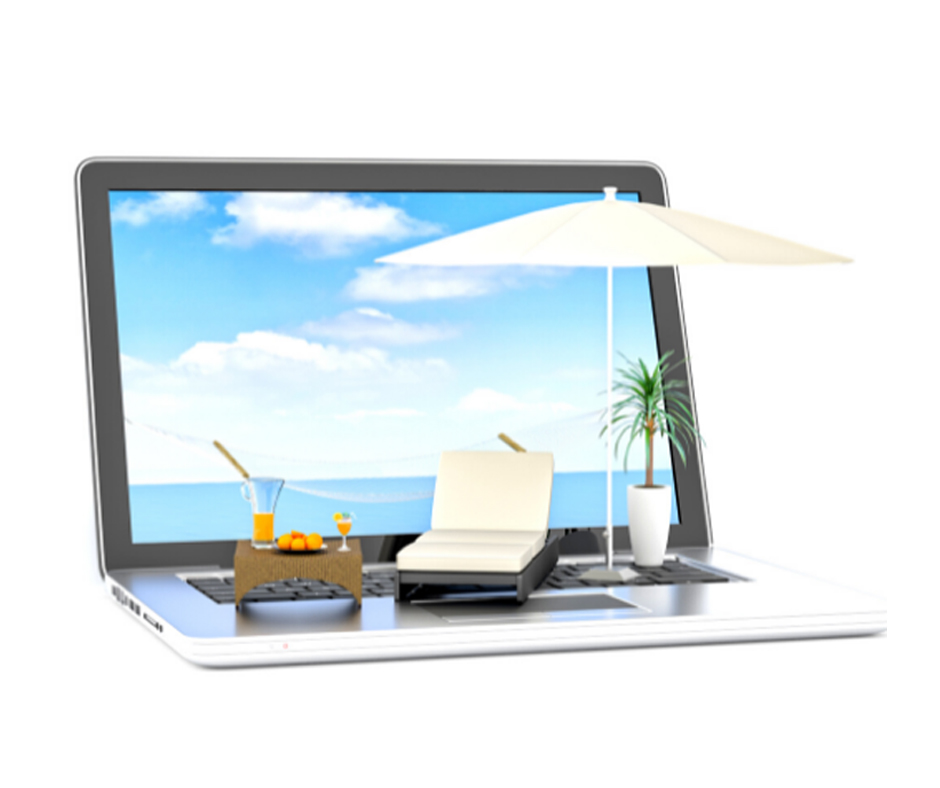 1 – 7 Days Plan Your Own Itinerary
No Licence Required.
Call Captain Brad to discuss
The next perfect getaway
Discover the Hawkesbury River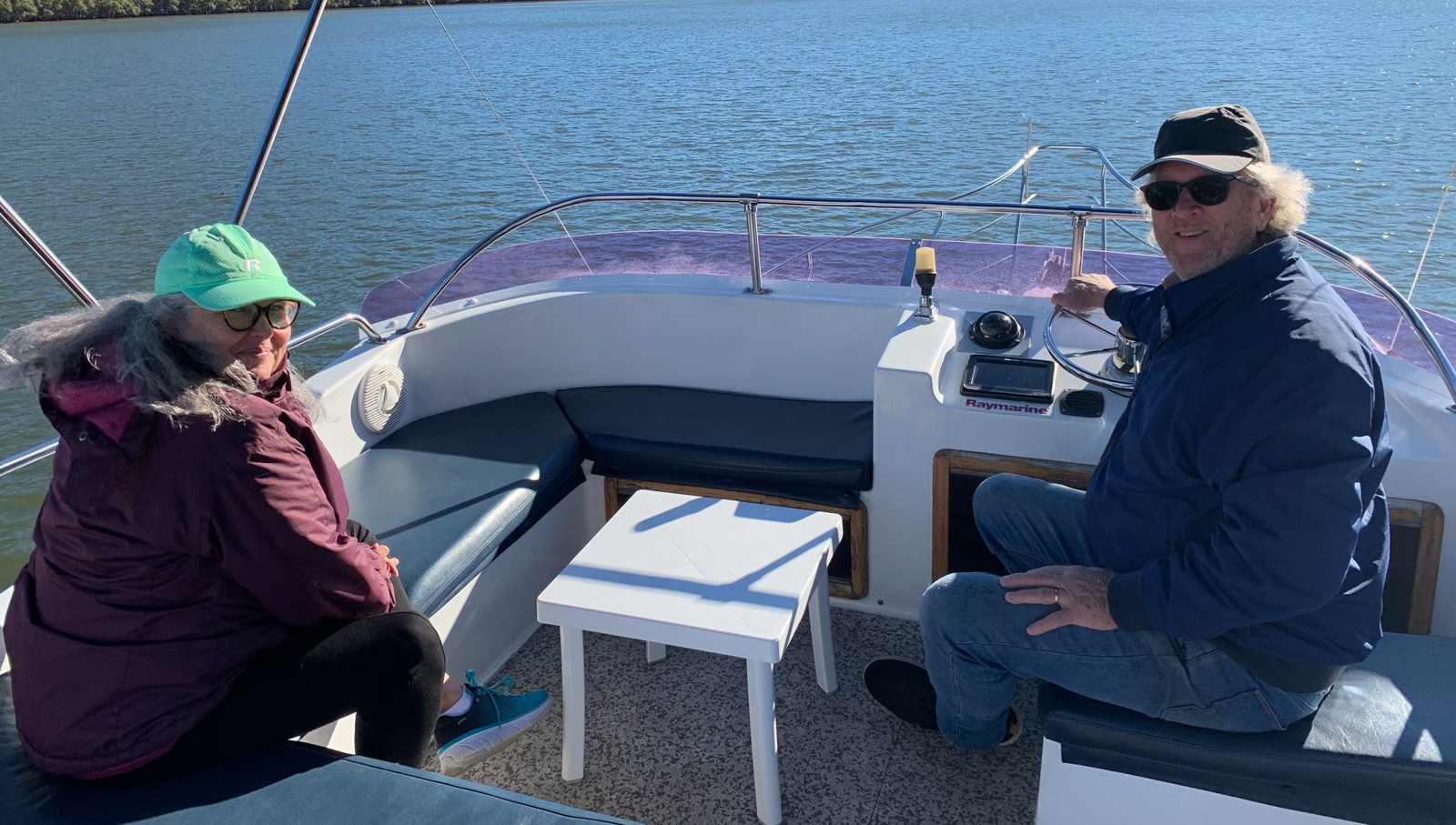 Standby Rates Available
Can you go boating with only a few days notice? Are you flexible? Join our Hawkesbury Cruisers Group and get 10% off the charter fee by being prepared to go boating with only 7 days notice.
Enquiry Form
Where did you hear about us? Google Facebook Instagram Friend Returning Customer Other
Yes This is a corporate event
Enjoy the Hawkesbury any Season of the Year.
Our Flybridge Cruisers have a rear cockpit with a relaxed all weather outdoor area. Flybridge with helm station, BBQ and seating for eight. Saloon with lower command station, dining, fully equipped galley with diesel stove and microwave oven. Separate self contained bathroom with shower. Large Queen Size Aft 2 berth cabin. Mid master 2 berth cabin with its own ensuite.

Stay and Vacay with Hawkesbury River Charter
Less than an hour from Sydney CBD is the majestic Hawkesbury River. The tranquil waters are perfect for a weekend escape or short break. A wonderful way to relax and soak up the natural beauty of the river is a houseboat holiday. You don't need a boat license to hire and captain a houseboat with Hawkesbury River Charter.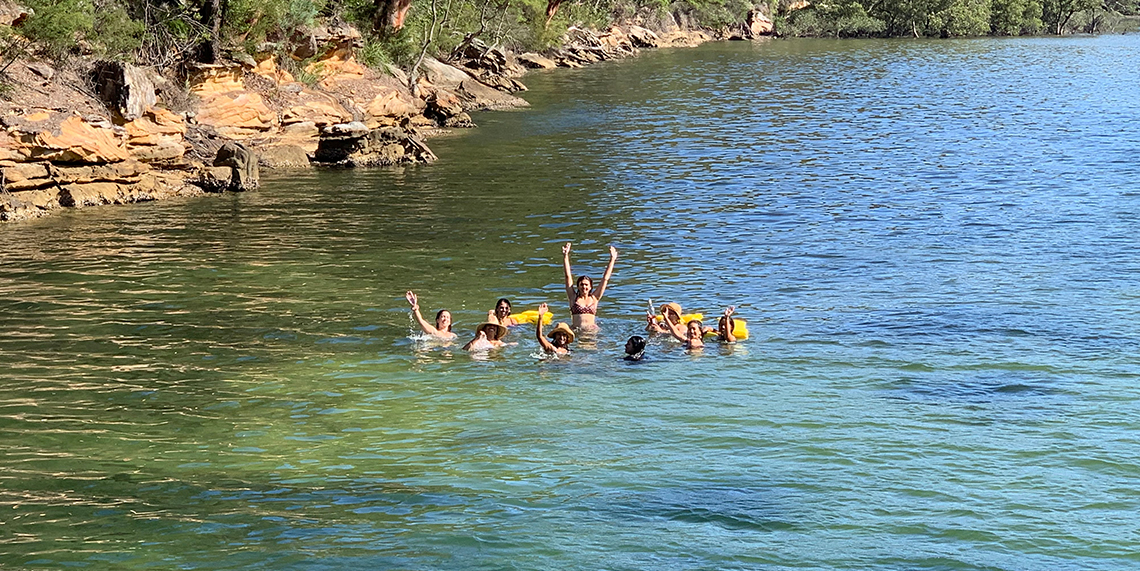 Fantastic day out with Jane and Brad, thank you so much for the great time on your gorgeous vessel! It`s a must-do for the whole family or group of work colleagues looking for a relaxed classy time on the Hawkesbury River.
Marketing Station Sydney

Absolute fantastic way to spend a weekend on the hawkesbury. Organisation of the trip was super easy thanks to Jane and Brad, they're doing everything to make your stay as pleasant as possible. Cannot wait to come back!
Katrin Herzog

An excellent getaway on the Hawkesbury River, this company provides great customer service, the boats are very comfortable and well maintained. Would highly recommend it
Mike Hadaway
Sign Up To Our Newsletter

Save up to 50% on River Cruises!
First-Time Visitors
Since 1984, Vacations To Go has helped more than 8 million vacationers save hundreds of millions of dollars on cruises. We can help you find the perfect river cruise at the lowest possible price.
We represent all the major river cruise operators and offer the best discounts and deals on every sailing. Use the search options on the left to find your cruise now.
Our fast and friendly river cruise specialists will make planning and booking easy. Please give us a call and we'll be happy to help!

Now in our 40 th year, Vacations To Go is the largest cruise-selling company in the world. We've built a reputation for discounts, service and professionalism that is second to none.
Price Guarantee We work with every major river cruise company in the world, and you'll find their lowest authorized prices on this site. However, if you ever find a lower price for the same ship, date and stateroom category, before booking, we'll match it.*
Service Guarantee Our cruise counselors are fast and friendly. However, if you are ever dissatisfied with any aspect of our service or our Web site, please click here to tell me about it. I will respond as quickly as possible, and always within 24 hours.
* The lower rate must be advertised on a competitor's website and available for booking at the time you contact us; offer does not apply to group rates.
Chesapeake Bay
Cruise the Chesapeake Bay roundtrip from Baltimore on these 6-night departures! Visit beautiful ports of call like Annapolis, Yorktown, and Tangier Island. But what makes a Chesapeake Bay cruise especially special? Fresh Crab! The history of Chesapeake Bay is alive in these small ports and towns as old as the 1600s. The region has always been important, for trade, industry, and military. Tour the history of early America as you cruise around the Bay including a trip to Colonial Williamsburg and Yorktown.
Cruise Details
or call 800.578.1479
*Per person/double occupancy. Special single rates apply where listed. Excludes port fees. Itineraries may operate in reverse.
Your Itinerary
1 Embark in Baltimore, MD From the cobblestone streets to the colonial architecture and Fort McHenry – the history of Baltimore is the history of America.
2 Williamsburg & Yorktown, VA No three towns represent early American history better than Yorktown, Colonial Williamsburg, and the Jamestown Settlement. You can take the Yorktown Trolley through 9 stops throughout historic Yorktown, including battlefields and the Watermens Museum. Transportation is available to 18th century Colonial Williamsburg, once the largest British capital in the New World. From there, you can take a shuttle to the Jamestown Settlement, the first permanent English colony established in 1607. If you'd like to spend your day a little differently, head over to the Williamsburg Winery, the largest winery in Virginia.
3 Cruising the Chesapeake Bay Spend your day sailing one of the most spectacular cruising ground in North America. The Chesapeake Bay is the nation's largest estuary, with its name originating from the Algonquian word Chesepiooc, meaning "at a big river." Home to over 22 miles of waterways, canals, lakes, and rivers, the unique combination of saltwater and freshwater which fills most of the Bay has created a rich habitat for fish and blue crabs, as well as other natural resources. Relish time cruising along the beautiful landscapes and historic small ports and towns that dot its shores.
4 Cambridge, MD & Oxford, MD See the Bay aboard the skipjack Nathan! Skipjacks are oyster dredging sailboats, used in the Chesapeake Bay since the 1880s. Join the crew of the Nathan as you sail the Choptank River. If you'd rather relax, head towards the 18th century LaGrange Plantation for a Sweet Tea party! Oxford was founded 1683, and quickly set up as the only port of entry for British trade on the East coast. The town flourished until the Revolutionary War, and is now a quiet town that you can explore by walking tour. Or you can choose to visit the Oxford Museum or Oxford Custom House – a replica of the first Federal Custom House.
5 St. Michaels, MD Start with a walking tour of colonial St. Michaels before venturing out to explore the many options in this town. St. Michaels is home to the Chesapeake Bay Maritime Museum, and 18-acre waterfront property with 10 exhibit buildings, working boatyard and the historic lighthouse. Or take a private eco tour of the Chesapeake Bay with a naturalist to point our wildlife and landmarks as you go.
6 Annapolis, MD A trolley tour of Annapolis is available, giving you a good overview of the history and the town. Get your ID out for a tour of the Naval Academy, founded in 1845. Or if those don't interest you, perhaps visit the Annapolis Maritime Museum, located in an old oyster packing building, or take an audio tour of historic Annapolis.
7 Disembark in Baltimore, MD Disembark after breakfast.
Map & Gallery
Cabin Categories
*Prices may vary due to seasonality
The fresh and salt waters of the Chesapeake Bay is home to the beautiful and tasty fresh blue crab! The Chesapeake Bay culture and industry, of course, is partially built on this harvest, and people travel from all over the world each year to indulge. Every Chesapeake Bay cruise will serve crab. But the Crabfest dates will dive deep into the culinary and economic legacy of the blue crab in the region.
Onboard Experience
The American Cruise Line fleet of ships are the newest and most environmentally friendly small ships in the US. The cruise line prides itself on their hospitable staff, and that you'll be graciously received no matter which ship you cruise on. The large staterooms with interior entrances ensure you have a relaxed, private area to watch the river from, or visit any of the many onboard lounges. Daily entertainment will be brought onboard, including musicians, historians and naturalists.
Regionally-Inspired Menus
American Cruise Lines uses fresh, local ingredients to show off the culinary glory of the region you're cruising in. On the Mississippi River, that could mean Andouille Gumbo, a po'boy with red beans and rice, and bourbon pecan pie. In New England, you could find Littleneck clam ceviche on the menu followed by a spiced apple pudding with maple whipped cream. In the Pacific Northwest, you'll find fresh fish on the menu, including shrimp bisque or Dungeness Crab cake, and a marionberry cheesecake that'll make your mouth water! Your ship will provide you with a list of all the locally-sourced ingredients when you unpack.
Eagle Society
Once you've cruised aboard any American Cruise Line ship, you are an Eagle Society member. It's free to be a member, but your loyalty to American Cruise Lines is greatly rewarded. You'll receive Eagle Society luggage tags, and member-only gifts when you board each cruise. After 3 cruises, you'll receive complimentary premium shore excursions. After 10 cruises, you'll get a complimentary 11th cruise. There are special Eagle Society cruise dates every year. Plus all Eagle Society member benefits can be used when booking with USA River Cruises, plus you'll still be eligible for our loyal customer benefits as well.
Best of the Northwest
Travel Abroad
Travel Health
Travel Warnings
U.S. Travel Security
Vessel Sanitation Program
Airline On-Time Stats
Airport Status
Portland City Tours, Oregon Wine Tours, Mt. Hood Tours
The World Clock - Time Zones
Travel Agents
Travel Insurance
Video Gallery
Cruise Recipes
Sign up for our e-Newsletter & receive exclusive offers!
10000 NE 7th Ave Suite 125, Vancouver, WA 98685 Contact
Call us at 800-578-1479